So, the summer signings slowly filter through. We've given up signing non-leaguers from Stevenage and Halifax and instead turned our attention to the Scottish Premier League and the Championship. This surely is the quality that we lacked last season to turn tenth into sixth? Surely....
Only as everyone knows football doesn't work like that. Pre-season passes and apart from the lack of goals nobody seems concerned. "The players are still gelling getting to know one another". First game away at Bristol City - a draw against one of the preseason favourites, although it's not so reassuring that they've started just as badly as we have. Nevermind, that weekend expectation hits fever pitch.
Then the MK Dons arrive for our first home game and Heffernen sticks us one up and the majority of the crowd (did MK actually bring more than Leigh RMI used to?) almost burst with excitement. All was going to plan, another couple tonight and then we'd be bubbling over with confidence to beat the much more competent Hartlepool at the weekend. Except, franchise hadn't read the script and scraped an equaliser to which we had no answer. Disappointment hung heavy as the lowish 6000odd crowd departed. Howver there were plenty of "don't worry, they were lucky, it's just a blip." Consoled by this and the reassuring words of the management on the radio, I again looked forward to Saturday.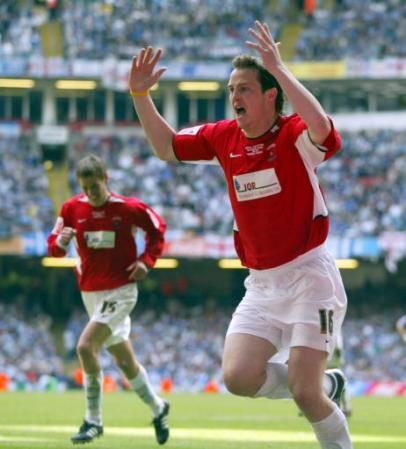 John Daley, Hartlepools scorer on Saturday
Looking out of my bedroom window on Saturday morning, I didn't fancy it much. Still, I'd waited and pined all summer for the new season so I wasn't going to be put off by a bit of rain. Waterproof jacket on (wish I'd worn wellies as well now!) I set off for Belle Vue. Well I drove but still managed to get wet through on the walk from Bennethorpe where I parked the car! Taking up my normal place I noticed how small the crowd was, but what was there all seemed to want to stand in the same bit as me. I lasted twenty minutes, before my lack of height and therefore vision got the better of me and I decided I'd rather get wet and see the game, than dry and look at the back of the 6 foot guy in front of me.
So, better view acquired I watched as we huffed and puffed in much the same way as last season. Lots of nice football, proper wingers, some crosses... no finishing, again! Hartlepool snatched a goal before half time, but it didn't really matter as although we created some good chances we never really looked like scoring against them with that big bloody Greek in goal!
So, the summer is over. Expectation has now given way to the hope that we don't do what Barnsley did last summer and spend loads of money and expect everyone to roll over for us. I'm still confident that once we click into gear we'll be a good side, I just hope that we do it soon. Don't think I could face being below Scunny for long.