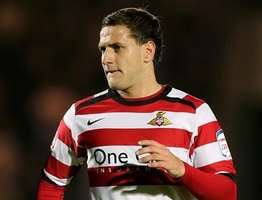 Barnsley fans have been accused of directing vile chants towards Sharp about the death of his two-day-old son in October during yesterday's game at the Keepmoat Stadium, which Doncaster won 2-0. The Sheffield-born striker, 25, later said on Twitter that he did not hear the chants, while it was alleged on a Barnsley forum that one young fan was responsible.
Rowing told Press Association Sport: "I went to the game with other directors of Barnsley Football Club and senior management and I can assure you neither I, nor any other person I was with, heard any such comments."
He added: "The social media network provides a platform for mindless mischief-makers. This is where we're heading nowadays, we're going to get 'Twittergation'.
"There are people who post as other people, they're not accountable for what they say. I don't think people are cruel enough to have actually made those comments at the game.
"I think this is a case of someone having an axe to grind with someone else and putting the initial post up on Twitter that certain comments were made.
"Common sense has to prevail here. The alleged comments were never heard by the person they were intended for and certainly not heard by me nor anyone else I was with.
"Now if any of our fans did hear any of these alleged chants and want to identify any individuals we will obviously take the necessary action. We're quite happy to do that. We would take strong action. But I believe our fans behaved impeccably yesterday."
Sharp tweeted after yesterday's game: "I didnt hear anything apart from...fat sheffield reject,but i proved i wasnt fat for the 1st goal."
Shortly afterwards Sharp added: "But if there was a few people chanting that then i hope your proud of yourself,but i cant imagine any1 been so disrespectful."
Source: PA
Source: PA