Next season while Leeds are playing Hereford, Cheltenham and Peterborough, Doncaster will be playing Reading, Birmingham, FA Cup Finalists Cardiff City and local rivals Sheffield Utd and Sheffield Wednesday.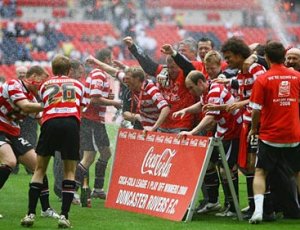 We're going to the Championship
Congratulations to everyone at Doncaster Rovers. Chairman John Ryan was ecstatic with the victory.
"I dreamt at the beginning of the season that it would be Leeds in the play-off final and we'd win, so I got it right," Ryan told
Sky Sports
.
"I said I would do it and I have. I made four promises (inc a new stadium) and they've all come true now.
"This was the last one - to get to the Championship.
"I was incredibly tense and incredibly nervous, but the boys have played great and deserved the win in my opinion."